Our History
Happerley was established by two farmers wanting to break down the disconnect between producer and consumer, and restore honesty and credibility to food provenance by turning food chain data transparent and to the consumer. Its solution is engineered on two fundamental truths. Firstly, by turning food supply chains from consumer to producer transparent and visible, every participating business will benefit from reduced food fraud and misrepresentation. Secondly, it recognises that the truth of provenance of any produce begins at the beginning of the food chain - at birth or seed. By empowering the producer to apply a Passport, and enabling the upward food chain to validate that provenance at each stage, the consumer will be then be empowered to validate premiums.

Independence

Work is now underway to create a not for profit company to own and manage the certification process and marque for the long term benefit of all members of the food chain, from farmers to consumers, safeguarding its future.
Matthew Rymer, Founder and Director

Matthew has a farm partnership with his wife, Chris, and is Director with Clifford Freeman of Gloucester Born Beef Limited. Always a believer in alliances and teamwork, and long seeing the need to strengthen the producer's hand, the principles of Happerley represent a long held ambition.
Matthew also directs The Marketing Farm Limited, encompassing The Software Farm, employing a team of 15 highly skilled developers in offices in UK and Romania, enabling him to fuse marketing with technology to turn key business concepts into reality.

Before returning to take on the family farm, his businesses have enjoyed a long track record of working with a wide variety of food and producer businesses, ranging from artisan prodicers to Kerrygold to the NFU - giving him a unique insight into the food industry.
Clifford Freeman, Co-Founder and Director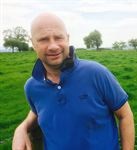 Clifford has a rare insight into every stage of the food chain. He grew his family business, Freeman's of Newent Ltd., a primary chicken processing business in Gloucestershire, into a business employing more than 200 people and slaughtering and processing nearly 400,000 chickens a week with a turnover of £35m. This growth was in part due to his pioneering a humane halal slaughter process. He sold the business to Cargill Foods in 2008. He has since turned around St Mary's Hall Hotel in the Isles of Scilly from a loss making business to one of the Island's top rated hotels.
Clifford is committed to ensuring the future of Pedigree Gloucester Cattle. The herd was established by Clifford's father, Eric, in 1971 with two cows bought at Tetbury market. His Everes's Farm in Gloucestershire is the joint home of the Noent herd and has become the largest and one of the most influential herds within the breed.
He is Co-Director of Gloucestershire Born Beef Limited, set up to create commercial brand value from the breed and other Gloucester beef by implementing a transparent husbandry and processing creed, and providing complete traceability.