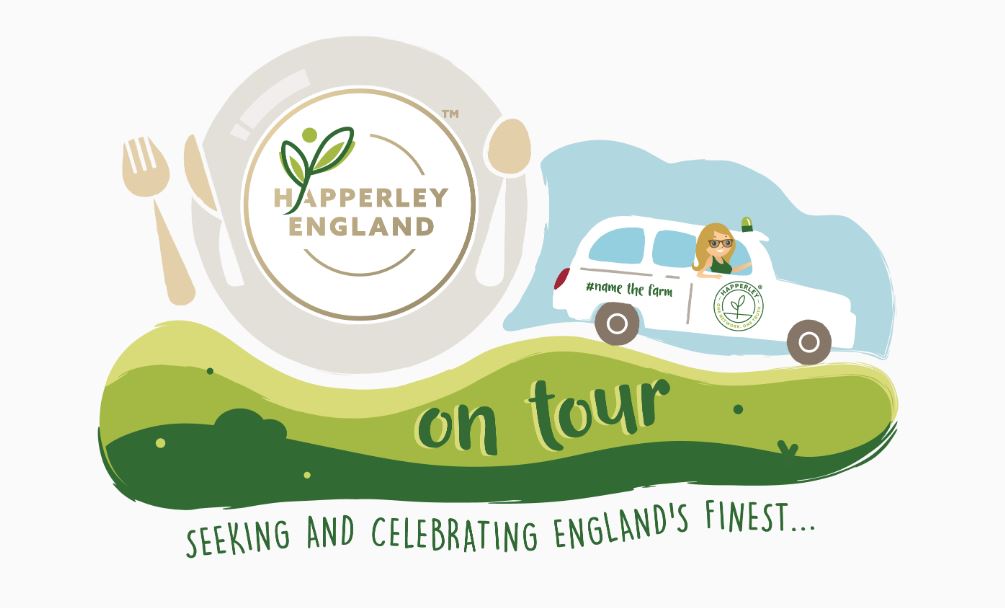 Farmer-led food provenance champion Happerley has today announced its plan to tour every English county this summer, in its ongoing bid to deliver transparency across the food and drink industry.
The tour, involving more than 40 feasts at Happerley Transparent hotel and restaurants from Cornwall to Cumbria, kicks off on Friday, 12th July at Happerely HQ, Willow Hill Farm, Apperley, in Gloucestershire.
Hosted by TV presenter and farmer Adam Henson, the media and VIP launch event will be a chance for passionate foodies to celebrate and savour some the of the county's finest produce, amongst a backdrop of beautiful countryside.
The tour will also feature the launch of Happerley's 'Gold Standard', which is only accorded to food and drink producers who are able to name the exact sources of their core ingredients back to the primary producers. 
As part of the exciting road trip, hotels, pubs and restaurants who are not Happerley certified are encouraged to join the movement by becoming a host venue, where they will be able to celebrate and champion unique regional recipes that showcase only ingredients from named local producers from their respective counties.
Chefs passionate about provenance will create a menu for a lunch or dinner that will include special guests and speakers. Each meal on the tour will then be compiled into a Happerley England recipe book and the tour will also be filmed for a TV documentary to be released later in the year.
With this summer's planned activities, Happerley hopes to highlight the importance of knowing where the food is from and who and how it has been produced.
Henson, who will be speaking at some of the venues, said: "This journey begins a big project to celebrate and connect the diversity and wealth of food and drink from every single region to the consumer, delivering total transparency. It has never been done before."
Founded by farmers, Happerley is working on behalf of the whole UK food industry and all consumers to develop and implement a means to secure provenance, honesty and transparency, gifting the consumer with the knowledge of the journey their food has taken.
Matthew Rymer, CEO and founder of Happerley, said: "We're touring every English county from July to November to seek and celebrate the finest of English food and drink provenance. It will involve the finest Gold Standard English food and drink producers and create a county-by-county debate on what each region stands for."
As well as being the official kick-off event of Happerley England on Tour, Adam and a national team will also be revealing exciting plans long in the development for a national centre for food and drink provenance. It is set to champion English provenance and is being described as the 'Eden Project' for food and drink.
Radio, TV & print press are all invited on the day, where interviews will take place at Willow Hill Farm, GL19 4DJ, from 9am, before the big reveal at midday.
Members of the public wishing to join us at our launch event can claim a place
here
.
Any venues interested in hosting future events should contact Happerley on 01242 222848. 
-ENDS-
For further information, media enquiries or images please contact:
Aaron Wise / Jo Doverman
Pic PR
Tel: 01386 882474
Notes to editors
Happerley works on behalf of the whole UK food industry and all consumers to develop and implement a means to secure provenance honesty and transparency, and empower the consumer to know the journey of their food.
Happerley aims to create a level playing field for all food businesses to validate, protect and promote the provenance value of their food production.