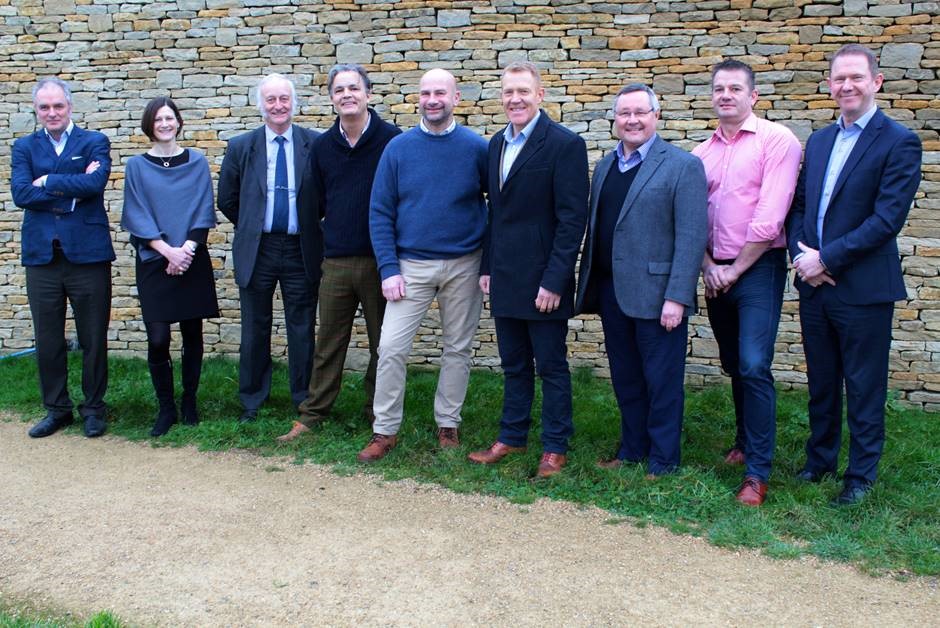 17 Jan 2018; Gloucestershire: Happerley, the food provenance organisation, held its inaugural Advisory Board meeting last week (12th Jan). It was agreed unanimously to work towards creating an independent member-owned entity to deliver a credible body to validate, certify and promote provenance across the UK food industry for the benefit of both producer and consumer.
The Advisory Board is made up of leading figures from across the food and farming industry, including TV presenter and Gloucestershire farmer Adam Henson. Chair is Peter Jinman OBE, a former non-executive director of Assured Food Standards (Red Tractor).  "The consensus across our Board and beyond is now very clear. There is both an urgent need and opportunity to empower consumers to know the journey of their food with absolute confidence, and for every business in that supply chain, from farmer up, to benefit. There is the will, the demand and the technology."
Happerley founder, Matthew Rymer, sees this as an important milestone. "Marketing, packaging, disingenuous labelling and a confusing array of often self-serving standards all undermine consumer confidence and provenance premium. Turn provenance transparent and you have the currency of truth. My intention was always to deliver this as a legacy project. I am grateful to have such a strong Board advising on these next critical steps.
Phil Ponsonby, CEO (Trading) of Midcounties Co-operative, is also on the Board: "Midcounties Co- perative is committed to supporting Happerley. We are not only facilitating technology pilots but we now plan to appropriate additional resources to deliver considerable consumer engagement in and out of our stores across our region in the months to come. Transparency is at the core of our ethos and we see considerable potential for this project."
###
Pic caption: The Happerley Advisory Board at its first meeting held at Gloucester Services on 12 January 2018 From left: Chris Crookall-Fallon (Co-op Futures); Sian Edmunds (Burges Salmon); Peter Jinman OBE (chair); Matthew Rymer (Happerley founder); Clifford Freeman (Gloucester Beef); Adam Henson; Tim Bennett (former head of Food Standards Agency and past president of NFU); Will Bennett (Director, Dairy Partners); Phil Ponsonby (CEO Midcounties Co-op)
The Happerley Board in detail
Peter Jinman (Chair) is a former non-executive director of Assured Food Standards (Red Tractor) and a past President of the Royal College of Veterinary Surgeons and the British Veterinary Association. He currently chairs Defra's Farm Animal Welfare Committee. 
Tim Bennett, is former Chair of the Food Standards Agency and past President of the NFU, and has a wealth of experience at the highest levels in the farming and food industry which in addition to leading the FSA and NFU, has seen him as a previous winner of the Dairy UK Dairy Industry award​ and chair of DairyCo.
Philip Ponsonby is CEO (Trading) of the Midcounties Co-operative, the largest group of independent co-operatives in the UK, with a turnover of over £1.2billion; he also sits on the Co-operative's Federal Retail and Trading Services board, responsible for the overseeing of food for over 4000 Co-operative stores across the UK.
Sian Edmunds is a partner at the Bristol-based, national law firm Burges Salmon. She heads their food and drink team and is an experienced member of the firm's food and farming group, acting for businesses across the food supply chain from primary producers through to food manufacturers, processors and retailers.
Chris Crookall-Fallon BSc MBA FRSA is the Social Business Enterprise Advisor for Co-Operative Futures; he is also a community and co-operative business specialist.
Adam Henson is a well-known TV presenter and runs The Cotswold Farm Park and a 650-hectare farm on which he and his business partner Duncan operate a range of commercial farming activities, in addition to a growing contract farming business.
Clifford Freeman is a Gloucestershire farmer who also grew his family business, a primary chicken processing business, into an employer of more than 200 people and slaughtering and processing nearly 400,000 chickens a week with a turnover of £35m. He has since turned around St Mary's Hall Hotel in the Isles of Scilly from a loss-making business to one of the Island's top-rated hotels. 
Will Bennett is a director of his family's Dairy Partners company. Dairy Partners was started in 2007 and has grown to become Europe's largest independent mozzarella cheese supplier, manufacturing and processing a range of cheeses created from milk exclusively supplied by over 150 dairy farms to their own dairy in West Wales. The Company is featured in the Sunday Times HSBC International Track 200 league table with one of the fastest-growing international sales in the UK.
For further press information please contact Amanda Campbell: 0781 5544721 [email protected]