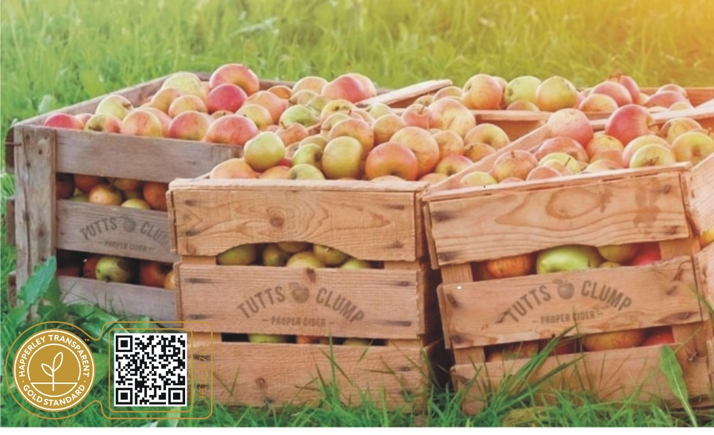 We are pleased to announce that Tutts Clump Cider Ltd have been awarded their Happerley Transparent Gold Standard Marque. Tutts Clump Cider are a family run business and have been making award-winning Cider and Perry since 2006. They are proud to be Happerley Transparent and to show their commitment to sustainability and provenance.
To achieve a Gold Standard Marque producers must be able to show the exact source of the main ingredients of their produce. Tutts Clump Cider are SALSA (Safe and Local Supplier Approval) accredited and fantastically sustainable, they use fruit from their own orchards, locally donated fruit from private gardens and redundant orchards which would otherwise go to waste. Any apples that are unsuitable for the cider making process, or would normally go to waste are given to local farmers to feed their pigs.
Tim Wale, his wife and 5 daughters are at the helm and pride themselves on crafting 'proper cider'; they do not filter, pasteurise or carbonate their products and any additives are kept to very small quantities. Being sugar and gluten free their products are also suitable for Vegetarians and Vegans. All aspects of production are kept in-house including bottling and packaging as it was when Tim and his family first began production as a hobby, albeit now on a much larger scale!